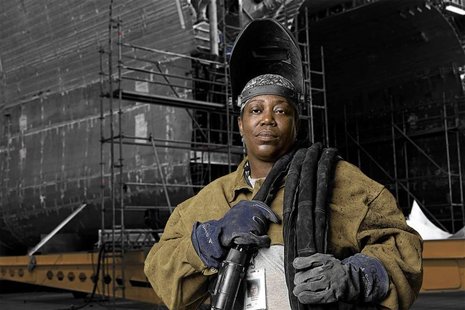 By Kelli Dugan
MOBILE, Ala (Reuters) - When Betty Fain saw the newspaper headline hyping a Mobile, Alabama shipyard's plan to hire 500 employees, she immediately crossed out the number and wrote 499 in its place.
Not only did Fain get the job, but her impressive turnaround from homelessness and a decades-long drug addiction propelled her to become the face of shipbuilder Austal USA LLC's new recruitment campaign unveiled on Thursday.
The campaign is designed to double the Australian shipbuilder's U.S. work force to about 4,500 over the next two years, and company officials said Fain was just the kind of employee they seek.
"Betty's is a message of hope for all women -- all people -- who find themselves in a tough situation," said Joseph J. Rella, president and chief operating officer of Mobile-based Austal USA.
The National Coalition for the Homeless estimates some 3.5 million U.S. residents experience homelessness during the course of a year.
In only four years, Fain reinvented herself, trading a life on the streets and a debilitating, 30-year crack-cocaine addiction for her own apartment and an $18-an-hour job among a highly-skilled work force charged with helping the U.S. Navy modernize its aging fleet.
"Give me 100 Betty Fains, and we could rebuild the entire Navy," said Craig Hooper, Austal USA's vice president of external affairs.
Fain, 52, isn't shy about discussing the details of her troubled past, but she would much rather steer the conversation to her job as a second-class welder and the cohesive social services network she credits with saving her life.
GETTING CLEAN
"When I came to Mobile, it was to get clean," said Fain, a New Jersey native who spent most of the past three decades in various Florida cities.
"I remember leaving church and getting high," she said. "I remember the nights on the street. I remember women around me coming up dead. I already felt like I was dying, and it put a fear in me."
Fain said a transitional housing program and a maritime welding program offered through Alabama Industrial Development Training helped her gain her footing and learn the long-missing life skills that have made her a literal poster child for job readiness.
She spent the maximum two years allowed at the Sybil H. Smith Family Village in Mobile, a transitional housing program that provides women with their own apartment and access to an array of life skills and training programs.
"When Betty came to us she was hanging on by a thread, but at our shelter she found sobriety and opportunity," said Kate Carver, director of the nonprofit Dumas Wesley Community Center, which runs the housing program. "Betty took advantage of everything we put in her path."
Fain completed her maritime welding program 18 months ago and accepted the job with Austal 20 days later.
"I've told everybody who will listen I'm going to be their first female foreman, and I know I can make it happen," she said.
At the end of each shift, Fain said three simple words remind her of how far she already has come.
"I'm going home."
(Editing by Colleen Jenkins and Jerry Norton)