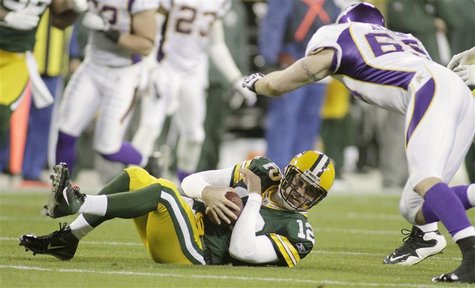 (Reuters) - Quarterback Aaron Rodgers produced a four-touchdown masterpiece as the unstoppable Green Bay Packers crushed the Minnesota Vikings 45-7 on Monday, the home team improving to 9-0 and extending their best start since 1962.
Rodgers, who has electrified with MVP-like performances this season, also extended his NFL-leading touchdown pass total to 28 in another superb outing that included 250 passing yards and just seven incomplete passes.
"We just have so much momentum right now and a lot of confidence," Rodgers told reporters after the Super Bowl champions extended their winning streak across two seasons to 15 games.
"No disrespect to our competition, we take the field and we know it's about us."
Green Bay opened with a bang when Randall Cobb delivered an 80-yard punt return for a score just 1:18 into the game and the Packers took a 17-0 halftime lead with Rodgers just warming up.
The quarterback tossed the first of two scores to Jordy Nelson to open the third quarter, the second coming in the fourth to give his team a 38-7 lead.
Back-up quarterback Matt Flynn even got in on the act, leading a drive and scoring on a three-yard scramble to cap the scoring in the fourth.
The Green Bay defense had been the only weak link of the team's dominant start but they put together one of their best performances to hold down the Vikings (2-7), who remain mired to the bottom of the NFC North division.
Adrian Peterson managed a three-yard score in the third but Minnesota had just 266 total yards on the night.
The Packers had three sacks and one interception against rookie quarterback Christian Ponder, who completed just 16-of-34 passes for 190 yards.
"I felt as a defense we owed it to ourselves to play a game like that," Green Bay cornerback Charles Woodson said.
"We needed a game like that. It feels good, but it's still one game."
(Writing by Jahmal Corner in Los Angeles; Editing by John O'Brien)