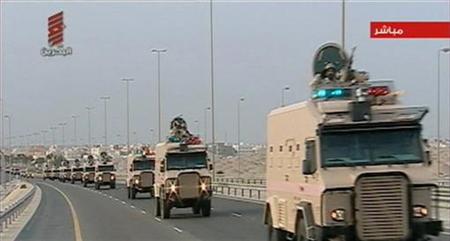 WASHINGTON (Reuters) - The State Department urged U.S. citizens on Tuesday to defer travel to Bahrain and suggested Americans there should leave due to ongoing political and civil unrest.
The State Department also said family members of U.S. embassy staff were authorized to leave voluntarily.
The department said in a statement that Bahrain has experienced a "breakdown in law and order," with demonstrations degenerating into violent clashes between police and protesters.
It said that while protests have not been directed toward Westerners, U.S. citizens should "avoid all demonstrations, as even peaceful ones can quickly become unruly and a foreigner could become a target of harassment or worse."
Saudi Arabia sent 1,000 Saudi troops to Bahrain at the request of Bahrain's Sunni royal family, prompting Washington on Monday to urge Riyadh to show restraint.
U.S. Defense Secretary Robert Gates visited the island kingdom last week and pressed its rulers to implement political reforms to defuse tensions with the Shi'ite Muslim majority.
(Reporting by World Desk Americas; editing by Sanjeev Miglani)