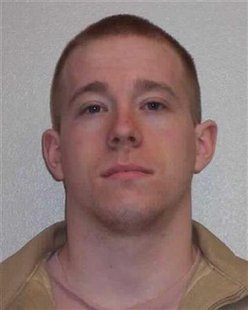 By Laura L. Myers
SEATTLE (Reuters) - A convicted murderer was shot and killed at a Washington state prison on Wednesday as he tried to escape in a forklift, authorities said.
Kevin Newland, 25, was shot by a guard at Clallam Bay Corrections Center after driving the forklift through a set of doors and crashing it into a perimeter fence, Washington Department of Corrections spokesman Chad Lewis said.
Newland had been serving a 45-year term for first-degree murder at the prison, located on the remote Olympic Peninsula's northwest tip, about 150 miles northwest of Seattle.
During the escape attempt a second inmate, 25-year-old Dominick Maldonado, who is serving a 163-year sentence, took a corrections officer hostage using a pair of scissors.
The officer was treated for minor injuries at a local hospital, Lewis told Reuters.
Lewis said he was unable to say whether the two inmates coordinated the escape attempt or how guards subdued Maldonado.
Clallam County sheriff's investigators were interrogating Maldonado after moving him to maximum security from a mid-level "close-confinement" status, he said.
Maldonado was convicted of wounding six people and paralyzing a seventh victim in a chilling 2005 mall shooting in Tacoma, Washington several days before Thanksgiving.
He was convicted of 15 counts of attempted murder, assault and kidnapping.
The "very isolated" 858-inmate prison remained on lockdown on Wednesday evening, Lewis said
(Editing by Dan Whitcomb and Greg McCune)