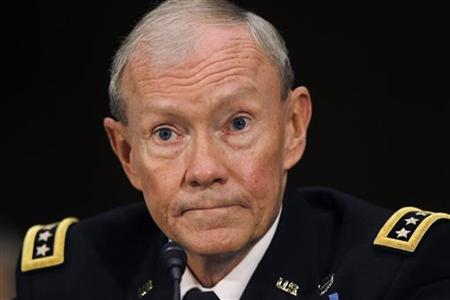 By David Alexander and Phil Stewart
WASHINGTON (Reuters) - The nominee to become the top U.S. military officer warned on Tuesday it would be "extraordinarily difficult and very high risk" to cut $800 billion from defense spending as part of efforts to reduce the nation's $14.3 trillion debt.
Army General Martin Dempsey appeared to push back hard in his Senate nomination hearing against proposals gaining momentum in Congress to at least double President Barack Obama's slated defense cuts of $400 billion over the next dozen years.
"National security didn't cause the debt crisis nor will it solve it," Dempsey, Obama's choice to become chairman of the Joint Chiefs of Staff, told the Senate Armed Services Committee in a written comments released in conjunction with the hearing.
The hearing on Dempsey's nomination coincided with a deadlock in Washington on finding a way to reduce the $1.4 trillion annual U.S. deficit and $14.3 trillion debt ahead of an August 2 deadline for raising the debt ceiling.
Obama earlier this year asked the Pentagon to find $400 billion in cuts to national security spending over the next 12 years. The Pentagon is reviewing how best to achieve that goal and is expected to present options to the president.
But lawmakers grappling with the debt issue have proposed even deeper cuts of $800 billion or even $1 trillion over the coming decade.
Asked about the proposals during his hearing, Dempsey said, "Based on the difficulty of achieving the $400 billion cut, I believe $800 billion would be extraordinarily difficult and very high risk."
U.S. DEBT NOT BIGGEST THREAT
Dempsey disagreed with the assessment of the current chairman, Admiral Mike Mullen, who has described the U.S. debt as "the single-biggest threat to our national security."
"I wouldn't describe our economic condition as the single-biggest threat to national security," he said in his written remarks. "There are a lot of clear and present threats to our security in the current operational environment."
Dempsey acknowledged the U.S. debt "is a grave concern" but said the country could not afford to "neglect the other instruments of national power" -- both military and diplomatic -- as it works to solve its fiscal problems.
Republican Senator John McCain, Obama's rival in the 2008 presidential election and a Vietnam war hero, criticized the rising pressure to cut military spending without first understanding the impact on strategy.
"Defense spending is not what is sinking this country into fiscal crisis, and if the Congress and the president act on that flawed assumption, they will create a situation that is truly unaffordable: the hollowing out of U.S. military power and the loss of faith of our military members," McCain said.
Dempsey, who only became Army chief of staff in April before his surprise nomination to become chairman, told McCain the Pentagon's comprehensive strategy for implementing Obama's $400 billion was due to be completed in late September or early October.
McCain said: "We have announced cuts without the commensurate strategy to go along with it. That's not comforting."
Dempsey said it was important for the U.S. military to demonstrate that "We are sensitive to the challenges of the broader nation" and do its part to help reduce the deficit.
"If we don't ... we will be seen as simply putting up barriers and defending ourselves against what Eisenhower famously called, you know, the military-industrial complex," he said.
(editing by Philip Barbara)