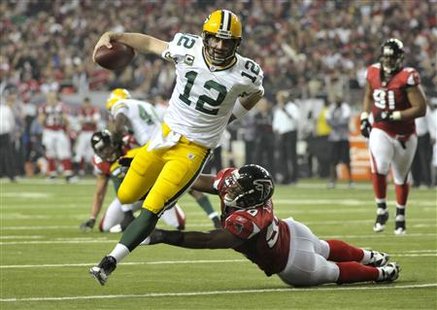 By Simon Evans
ATLANTA (Reuters) - Green Bay quarterback Aaron Rodgers delivered a masterful performance to lead the Packers to a 48-21 win over the Atlanta Falcons in their NFL divisional playoff on Saturday.
The Packers will meet the winner of Sunday's other NFC game between the Chicago Bears and the Seattle Seahawks in next week's conference championship for a place in the Super Bowl, at Dallas on February 6.
Rodgers, threw for 366 yards and three touchdowns and also ran in a touchdown himself, from seven yards out.
A 12 yard touchdown run from Michael Turner gave the home crowd at the Georgia Dome just the start they had demanded with their loud reception for their team.
But Rodgers responded at the start of the second quarter with a six yard pass short left to Jordy Nelson.
The decibel level rose though in the roofed arena though when Eric Weems returned the kick-off 102 yards, sprinting with glorious ease for a Falcons touchdown - the longest kick-off return in NFL playoff history.
But that was the last moment to savor for the home fans as Packers replied with 35 unanswered points from five converted touchdowns.
Green Bay running back John Kuhn ran over from a yard out and then Rodgers floated a perfectly weighted pass to receiver James Jones.
The game-turning play came on the stroke of halftime when Falcons quarterback Matt Ryan was intercepted by Tramon Williams who raced 70 yards for a score which sent the Packers in 28-14 up at the break.
The momentum was now firmly with Green Bay and when Rogers showed he can run as well as throw - with his seven yard dash ending with a dive into the endzone, it was game over.
(Reporting by Simon Evans in Atlanta; Editing by Julian Linden)