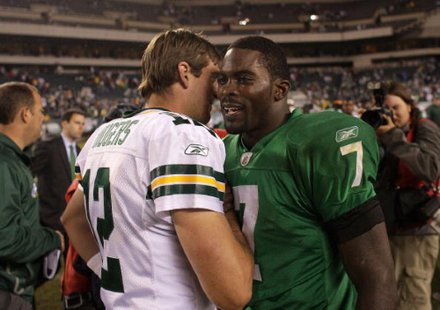 PHILADELPHIA (TSN-WSAU) Aaron Rodgers threw for 180 yards and three touchdowns to lead the Green Bay Packers to a 21-16 victory over the Philadelphia Eagles in an NFC Wild Card game.
The Packers barely sneaked into the playoffs, clinching a playoff berth with a 10-3 victory over Chicago in the regular-season finale. They entered the postseason as the sixth seed in the NFC, but a high-quality sixth seed, and are now moving on to face the top-seeded Atlanta Falcons.
Rodgers got his first playoff victory after completing 18-of-27 passes with no interceptions. The Packers got a big boost from running back James Starks, who rushed 23 times for 123 yards -- more than the rookie had in three games during the regular season.
Green Bay's defense benefited from two missed field goals by Philadelphia's David Akers, and also kept Michael Vick in check. While Vick threw for 292 yards and a touchdown and ran for another score, he didn't make the sort of game-breaking plays he often did during the regular season.
Vick got the Eagles within one score after a 1-yard touchdown run on fourth down. After the Packers failed to run out the clock, the Eagles got the ball on their own 36 with 2-minutes to play. The Eagles marched to the red zone, only to be turned away by the Packers defense.
Vick was also intercepted by Tremon Williams in the end zone in the final minute with the Eagles threatening to score, securing the Packers victory.
The Packers play the Falcons next Saturday in Atlanta. Kickoff is 7pm CT.