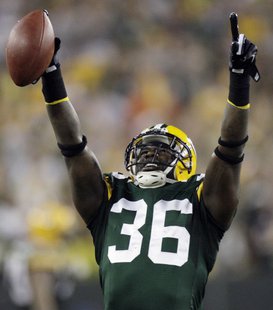 GREEN BAY, Wis (TSN-WSAU) The Packers needed one defensive stop to get into the playoffs.
Nick Collins made sure it happened.
Collins' interception deep in Green Bay territory helped the Packers defeat the game Chicago Bears, 10-3, at Lambeau Field to close out the regular season in celebratory fashion. The Bears had driven from their own 2 to the Packers 36 on a potential game-tying drive late in the 4th quarter before being turned away by the Collins interception.
The Packers defense was stout for the entire game, forcing four consecutive three-and-outs for the Bears offense in the second half. The Bears were also denied on an earlier drive by a Charlie Peprah interception in the end zone.
Aaron Rodgers' one-yard touchdown pass to Donald Lee in the fourth quarter was the difference. The only touchdown was set up by two long pass completions to Donald Driver and Greg Jennings. Earlier in the half, a long Rodgers-to-Jenning pass left the Packers at the 1-yard line. They settled for a 29-yard field goal after failing to score on three consecutive goal-line plays.
Rodgers finished with 229 yards passing, and Greg Jennings caught four passes for 97 yards to help the Packers earn back-to-back playoff appearances for the first time since four straight trips from 2001-04.
The Bears (11-5), with absolutely nothing to gain by playing their starters, tried to deal their arch-rival a knockout blow, but will still go into the playoffs with the No. 2 seeding and a first-round bye. Jay Cutler finished with 168 yards on 21-of-39 passing and was picked off twice, and Matt Forte ran 15 times for 91 yards in defeat.
The Packers will play the Eagles next Sunday in Philadelphia. Kickoff will be at 3:30pm CT.