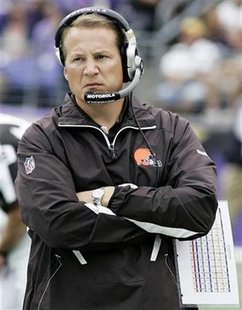 NEW YORK (Reuters) - The Cleveland Browns fired Eric Mangini as head coach on Monday after completing their second successive 5-11 season, the NFL team said on their website (clevelandbrowns.com).
The Browns finished the campaign with a 41-9 drubbing by the Pittsburgh Steelers.
"Although we have made improvements this season, my responsibility is to ensure that we establish a program that will allow this team to compete at a championship level," Browns president Mike Holmgren said in a statement.
"That will continue to be our goal in everything we do."
The Browns registered upset victories this season over the playoff-bound New Orleans Saints and New England Patriots but failed to follow up in finishing 2-6 with losses in their last four games.
Mangini, who previously coached the New York Jets, thanked the Browns owners for the opportunity to coach in Cleveland.
"I feel strongly that the Cleveland Browns are headed in a very positive direction....and wish them nothing but success," Mangini said.
Mangini, 39, started his NFL career as a 23-year-old ball boy with the Browns during Bill Belichick's head coaching tenure and served as assistant coach under Belichick when he took over the Patriots.
Mangini became head coach of the New York Jets from 2006 to 2008, where he went 23-25 and made the playoffs once.
(Reporting by Larry Fine; editing by Ed Osmond)