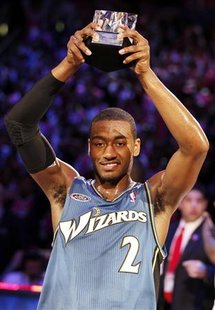 LOS ANGELES (Reuters) - The NBA's rookie class stole the stage from the sophomores with high-flying dunks and sharp passing to win 148-140 in Friday's Rookie Challenge that kicked off the All-Star weekend festivities.
Washington Wizards point guard John Wall made a Rookie Challenge record 22 assists and 12 points to take MVP honors and help defeat the sophomores for the second straight year.
"It was so easy, our coach wanted us to run a couple of plays, but we were pushing the ball and our team did a great job of finishing," Wall told reporters.
Sacramento Kings' DeMarcus Cousins added a game-high 33 points and 14 rebounds to team with Wall in the victory.
In a game full of showmanship and little defense, the sophomores were led by Oklahoma City Thunder second-year guard James Harden, who had 30 points, along with San Antonio Spurs' DeJuan Blair who recorded 28 points and 15 rebounds.
(Reporting by Jahmal Corner; Editing by Ian Ransom)