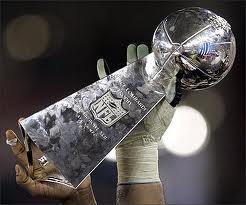 ARLINGTON, Tx (TSN-WSAU) The Packers bent, but never broke.
An MVP performance by Aaron Rodgers and a swarming Green Bay defense made sure of that.
Rodgers guided the Packers to their fourth Super Bowl title, throwing for 304 yards and three touchdowns in a 31-25 win over the Pittsburgh Steelers on Sunday.
Momentum changed hands several times between two of the NFL's most storied franchises, but the less-experienced Packers were able to hold on despite nearly blowing an 18-point first half lead.
In the end, the quarterback with no Super Bowl rings bested the one who already had two.
Trailing by six with just under two minutes remaining, and starting at his own 13-yard line, Ben Roethlisberger couldn't lead the Steelers on a final scoring drive.
His last pass of the season hit Mike Wallace in the hands and fell harmlessly to the ground, allowing the Packers to kneel out the clock for their first Super Bowl title in 14 years.
Rodgers, finally out of Brett Favre's shadow for good, completed 24 of his 39 passes without an interception, hitting Greg Jennings for two touchdowns and Jordy Nelson for one.
The Packers scored 21 of their points off three Pittsburgh turnovers -- including Nick Collins' 37-yard interception return for a touchdown in the second quarter.
Roethlisberger threw two interceptions in the first half, but recovered to complete 25-of-40 passes for 263 yards and two touchdowns.
The Packers played the entire second-half without defensive star Charles Woodson, who left the game with an injured shoulder. Wide receiver Donald Driver injured an ankle in the first half and did not return.
The Packers are scheduled to fly back to Green Bay on Monday. There will be a special live broadcast on Tuesday afternoon at 4pm live from Green Bay on AM-550 FM-99.9 WSAU to celebrate the Packers championship.