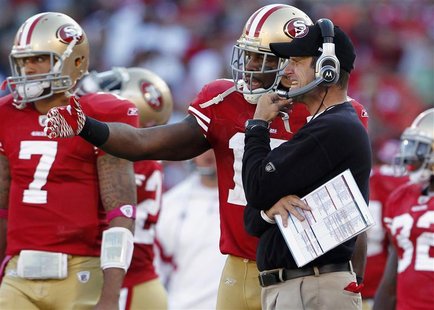 (Reuters) - Wide receiver Braylon Edwards has been released by the San Francisco 49ers after an injury plagued season where he had only 15 receptions in eight games.
The former Cleveland Browns and New York Jets receiver injured his right knee in the second game of the season at Dallas.
"I was released today by the 49ers due to my injury that required more time to rehab and hasn't allowed me to re-sync with the offense. I wish the 49ers organization the best of luck during the playoffs. I will be working hard this off season to strengthen my knee and prepare for the 2012 season," Edwards said in a statement on his website.
Edwards was nearing the end of his one year contract with the 49ers who will now likely look to add a receiver to their roster ahead of Sunday's game at St. Louis where they hope to clinch the second seed in the NFC.
Drafted by the Browns as a first round pick in the 2005 draft, Edwards was a Pro Bowl selection in 2007 after putting up 1,289 yards.
(Editing by Justin Palmer)