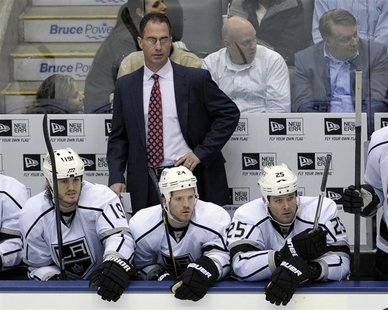 By Frank Pingue
(Reuters) - The Los Angeles Kings were considered Stanley Cup contenders ahead of the 2011-12 National Hockey League season but a slow start, injuries and inconsistency has left the team playing catch-up in the standings.
For the first time in their 44-year existence, the Kings entered a campaign without any glaring weaknesses given some major offseason acquisitions that sent a message the franchise was serious about claiming a first NHL title.
However, the impressive roster has yet to deliver and the team is having trouble scoring, leaving the Kings (15-14-4) sitting below the cutoff line for the playoffs with the season approaching its midway point.
"We really haven't scored a lot of goals and that's where you can point the finger for not succeeding lately," Anze Kopitar, who leads the Kings with 30 points, told reporters before Monday's 3-2 shootout win over the Toronto Maple Leafs.
"We have to put together a good streak, that's just how it is. We've put together a bad one and now we have to put together a good one. There's no secret to it."
Los Angeles entered the Toronto game with 10 goals in their last seven contests, a stretch that included just one win and during which head coach Terry Murray was fired.
That is clearly not what Kings management had in mind when they acquired former Philadelphia Flyers captain Mike Richards in a trade, signed two-time All-Star Simon Gagne and locked up promising defenseman Drew Doughty before the season began.
Center Kopitar, who led the Kings in points for a fourth straight season in 2010-11, has struggled to find the net recently, scoring his last goal on November 22.
"We're a good team, we made those offseason acquisitions and that made us a lot better of a team and now we just got to believe it," Doughty, taken second overall by the Kings in the 2008 draft, told reporters.
"That's the problem here. We're losing mentally, but once we finally believe that we have the team to do it then we'll start winning some games and put on a little winning streak."
GREASY GOALS
The Kings, sitting 10th in the 15-team Western Conference, have also faltered of late in part because Richards, who has 20 points in 25 games this season, has not played since suffering a head injury on December 1.
Richards, who topped 20 goals in a campaign four times in his six previous seasons, was off to a fast start this year with 11 goals and on pace for a career-high, whereas Gagne, a former 47-goal scorer, has just seven with his new team.
While the Kings have established themselves around the NHL as a solid defensive team, captain Dustin Brown feels a recent emphasis on sending more guys to the opposing team's net will help give them a better balance.
"We can work harder on the offensive side of the puck, getting around the net and getting those greasy, dirty type of goals," Brown said. "With the type of players we have in here we got to be better offensively."
In Monday's game, the Kings twice squandered one-goal leads but managed to secure the win when Brown fired a wrist shot by Maple Leafs goalie James Reimer to end the shootout. Brown had also scored late in the second period to put the Kings up 2-1.
The Kings will now try to carry momentum from their win over slumping Toronto, losers of three straight, into Thursday's game against the Anaheim Ducks, where they will hope to secure back-to-back wins for the first time in three weeks.
"Right now, we're just so down emotionally that things aren't clicking, things aren't going well and we just need to find that extra edge," Doughty added.
"Everyone has to look themselves in the mirror and give it their all and when every single guy on this team does that I don't think we'll have any problems winning games."
(Editing by John O'Brien)