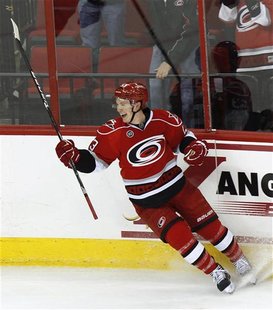 (Reuters) - The struggling Carolina Hurricanes were dealt another blow on Wednesday when forward Jeff Skinner and defenseman Joni Pitkanen were ruled out indefinitely with concussions, the National Hockey League (NHL) team said.
Skinner, who leads Carolina in scoring with 24 points, missed the last two games while Pitkanen, the team's top-scoring defenseman with 12 points, missed the last three games.
Carolina are at the bottom of the Eastern Conference standings after a stretch that saw the team lose nine of their last 10 games.
Skinner and Pitkanen were the latest in a fast-growing list of NHL players out with a concussion, including the league's top drawcard, Sidney Crosby of the Pittsburgh Penguins, and leading scorer Claude Giroux of the Philadelphia Flyers.
(Reporting by Frank Pingue in Toronto; Editing by Julian Linden)