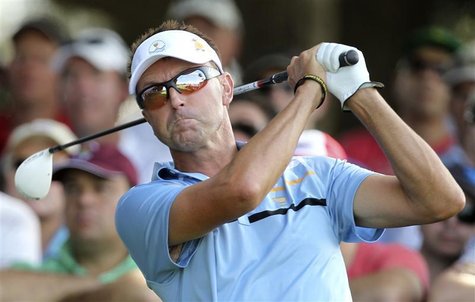 By Ian Ransom
MELBOURNE (Reuters) - Under-fire Australian golfer Robert Allenby is to take a break from the game in the wake of a controversy-charged return to his home country, citing mental fatigue and the need to spend more time with his children.
Allenby, who has had a frosty relationship with Australian media for years, endured a poor Presidents Cup at Royal Melbourne last month as one of Greg Norman's two captain's picks, becoming only the second player in the tournament's nine editions to lose all four of his matches.
The 40-year-old later defended his performance at the biennial tournament, telling reporters his playing partners YE Yang of South Korea, South African Retief Goosen and compatriot Geoff Ogilvy were also to blame for his woes at Royal Melbourne.
The comments sparked withering criticism in Australian media and were seen as the catalyst for an off-course row between Allenby and Ogilvy, with local media reported the two had exchanged heated words at a luxury hotel following the Australian PGA tournament on Queensland's Sunshine Coast.
Allenby, competing against world number one Luke Donald and the cream of Australian golf at this week's Australian Masters, said he and Ogilvy had mended fences but added he intended to take a break after a mentally-trying year.
"We had a good chat last night at the function, which was nice," Allenby told reporters on Wednesday of a meeting with Ogilvy. "We laughed and we had a giggle about everything. Look, Geoff and I have been friends for a very, very long time and we are not going to allow something this silly just to spoil that.
"Looking into the future, I'm looking forward to taking a break after this week. I have no plans to play as of next year yet. It might not be until February, March. I'm not sure. I just feel that I need a break from the game.
"I have had a lot of things happen over the course of the year and I just feel mentally I'm just not quite there for the golf."
Allenby, once rated Australia's next Greg Norman after showing huge promise early in his career, won the last of his four U.S. tour titles in 2001 and comes off a mediocre season on the circuit with only three top-10 finishes from 25 starts.
Despite being at the vanguard of Australian golf for more than a decade, Allenby has had an uneasy relationship with the local tour and once threatened never to return after being upset by a heckling spectator when playing the 2008 Australian Open.
Allenby, who split with his wife of 11 years last year, said he might only play one or two events early in the U.S. tour next year to allow himself more time with his children.
"I have been away a bit, so time to be a father," he said.
(Editing by Greg Stutchbury)