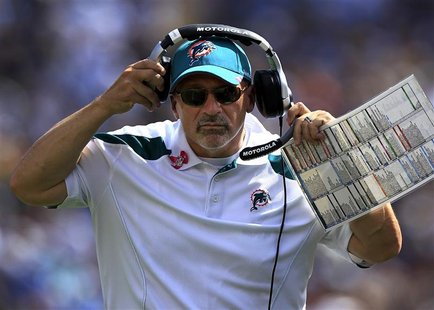 By Simon Evans
MIAMI (Reuters) - The Miami Dolphins fired head coach Tony Sparano and named assistant coach Todd Bowles as his replacement on an interim basis, the National Football League (NFL) team said on Monday.
Sparano led the Dolphins to an AFC East title in 2008, his first season in charge, but that proved to be his only winning season and Miami has been unable to return to the playoffs.
Miami are last in the AFC East with a 4-9 record with three games remaining in the regular season and Sparano's position has been vulnerable after a 0-7 start to the 2011 NFL campaign.
Dolphins owner Stephen Ross told a news conference that a "thorough search" would begin to find the team's next head coach and confirmed that Bowles would be interviewed for the post.
"When I purchased the team I said there was nothing more important to me at all than being a winning team and bringing back the glory to Miami that it had in the past," said Ross.
"There has been a lot of distraction, a lot of speculation over whether Tony will stay or go and I think, in the interests of the football team and the development of this team, that this is the time that we need to make a change."
Ross also confirmed that general manager Jeff Ireland would remain in his position.
(Editing by Frank Pingue)