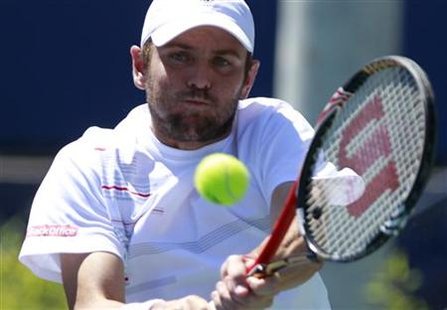 By Steve Keating
MONTREAL (Reuters) - Mardy Fish will never be seen as the savior of American tennis but the 29-year-old is ready to step up and carry the flag into the U.S. Open later this month if no one else will.
That Fish, the winner of six titles but no grand slams, is the likely standard-bearer for the U.S. at Flushing Meadows as the top ranked American does not say so much about his improved play this season as it does about the decline of the sport in the United States.
Settled in at career best number eight on the most recent world rankings, Fish is almost certain to be the in-form player among an aging group of injury racked former champions, untested newcomers and under-achievers.
Andy Roddick, who notched his only grand slam at Flushing Meadows eight years ago, is limping toward the season's final grand slam tournament while Venus and Serena Williams, both multiple U.S. Open champions, remain unknown quantities after a season of battling injuries.
"With the title (of top ranked American) comes a responsibility," said Fish, who could see his ranking climb even higher after reaching the semi-finals of the Montreal Masters on Friday with a three set win over Switzerland's Stanislas Wawrinka.
"There are a lot of Americans playing tennis. It's a big country, obviously. There are a lot of American tennis fans.
"It will certainly be exciting if it happens, to go into the U.S. Open as the highest ranked American on both sides.
"There's a lot of pressure in that, for sure. I've never been in that position before."
GOLDEN ERA
The modern era of tennis is dominated by iconic American names: Jimmy Connors, John McEnroe, Andre Agassi, Pete Sampras backed up by the Michael Changs, Jim Couriers and Roddicks.
On the women's side there is Martina Navratilova, Billie Jean King, Chris Evert and the Williams sisters.
But the talent that used to flood through the U.S. tennis pipeline has slowed to a trickle leaving plenty of questions as to when the next generation will arrive to challenge in a sport that has now gone global and deep in international talent.
"I look back over the past 35 or 40 years and see where the Americans are now, it's kind of a little distressing," said Connors. "Back in my era, eight of the top 10 players were Americans.
"It went for two and a half generations of having nothing but the best players in the world," he told reporters.
"Sampras, Agassi and Courier took the place of Connors and McEnroe and that group, added the 58-year-old.
"Now Roddick and Fish and that group...who is taking the place of this group?"
That is the worrying question being confronted by the United States Tennis Association.
Connors, who won over 100 ATP Tour events including five U.S. Open titles, has some ideas but they are unlikely to impress American officials as he uses his expertise to help nurture and develop talent in other countries.
"I'm getting involved in tennis more for kids, doing our Kids For Tennis programs but not much in the United States or North America, mostly out of the country," said Connors.
"Obviously we're starving for players but where to find them?
"All I know is that all the other countries that came over and learned from the United States came back and improved it and went on to another level.
"Russia, South America, Spain for instance. So many have come out with so many great players.
"What happened to the United States?"
(Editing by Rex Gowar)