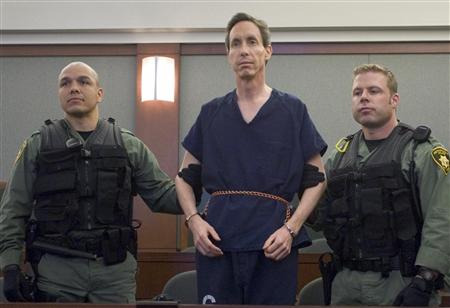 By Jim Forsyth
SAN ANGELO, Texas (Reuters) - If church elder Willie Jessop has his way, members of his polygamist sect will never again marry underage girls at a reclusive Texas ranch, and gates at the compound's entrance will not lock people in.
But it's anyone's guess how much power Jessop has. Even in the wake of a trial exposing child sexual assault by church leader Warren Jeffs, there are no guarantees his followers will drop their faith in their self-proclaimed prophet.
"This is a crisis for every single member of the church, and everybody has to come to grips with it," said Jessop, a former staunch supporter of Jeffs who split with him earlier this year but remains a church elder, based in Utah.
"Any abuse, underage marriages or any such acts cannot be tolerated within the church," Jessop said, adding that church members had known about Jeffs' behavior. "Those gates will protect those people, not keep them enslaved."
Jeffs, who has so far retained his position at the helm of the Fundamentalist Church of Latter Day Saints, was sentenced to life in prison on Tuesday for sexually assaulting two girls he wed as spiritual brides when they were 12 and 14 years old.
Former church members and law enforcement officials say change in the church, estimated to have 10,000 members across North America, may be slow in coming. They say Jeffs may try to govern the sect through surrogates from jail, and was expected to appeal the conviction.
Any challenge to his leadership could produce splits in the church, which has been condemned by the mainstream Mormon Church and is accused of promoting marriages between older men and girls.
Law enforcement officials said Jeffs and his leadership team instructed members to avoid following trial developments and not to watch TV, or read newspapers or websites as the case proceeded.
WILL NOT STEP DOWN EASILY
Some church members including Jessop have said that Jeffs, who took control of the church after his father Rulon Jeffs died in 2002, introduced underage marriage to the church. Previously, church members had to be 20 to marry.
After Jeffs took over, he cemented his grip by driving out his critics and rivals, excommunicating some -- mainly men and boys -- for minor transgressions and alienating them by stealing their families and evicting them from their homes.
Jeffs survived a legal challenge for control of the church's corporate entities mounted earlier this year in a sign of internal maneuvering within the church.
Schleicher County Sheriff David Doran, one of the few outsiders who has been allowed onto the Texas ranch voluntarily, said sect members were probably not going to abandon faith in their leader, at least not yet.
"I truly believe that they're going to stay loyal to Jeffs until the hierarchy makes a change within the community," he said. "I don't see anything changing."
Flora Jessop, who grew up in the church and ran away from a forced marriage to an older cousin, said there was no question a new leader would emerge and that the church would go on.
"This is taking down the head of the snake, but it won't kill the snake," she said of the trial. "There is always somebody willing to step into the shoes of the leader."
"The way the FLDS sees it, if you are persecuted and put in jail by Gentiles, you become a martyr automatically," she said. "And so you pay a price for living your religion, and it proves you are faithful."
She has no immediate family relation to Willie Jessop.
Former Salt Lake County sheriff's lieutenant John Llewellyn, who has written five books on polygamist groups, said it was hard to imagine Jeffs ceding control easily, citing the "money, power, sex, and ego" to be had in ruling the sect.
TAINTED MOVEMENT
There is little question that Jeffs' actions tainted the reputation of the polygamist movement, whose members believe consenting adults should be allowed to practice plural marriage so long as no one is coerced.
Jeffs, who never disputed having sex with his underage "wives", had claimed religious persecution in sporadic court outbursts in his Texas trial.
But his case has prompted Utah-based polygamist groups to distance themselves from him, saying sexual abuse of children has no place in their faith or practice of plural marriage.
"It is hard to be able to explain to people the fact that there are thousands of people that live it and are law-abiding citizens when they hear about Warren Jeffs," said Anne Wilde, a spokeswoman for Principle Voices, a polygamist advocacy group.
"They think all polygamists are like him," she added.
A lawsuit currently in the Utah courts seeks to decriminalize polygamy in that state. The family featured on the U.S. reality TV series "Sister Wives," about an advertising executive and four women he calls spouses, is challenging the government's right to criminalize its lifestyle.
The lawsuit challenges Utah's bigamy statute, though lawyers say it is not trying to get the government to recognize plural marriage, just to stay out of their intimate affairs.
Utah Attorney General Mark Shurtleff, who long pursued Jeffs, said while plural marriages were illegal, consenting adult polygamist relationships were not his concern.
Even if they were, it's a losing battle in a state that was founded by polygamists looking for a place to practice their religion in peace.
"But they need to not be in hiding behind closed doors and behind walled cities," Shurtleff said. "They need to come out and otherwise participate so they don't allow someone like Warren Jeffs to gain the complete power he had over their lives."
(Additional reporting by James Nelson in Salt Lake City and Karen Brooks in Austin; Writing by Karen Brooks; Editing by Cynthia Johnston)