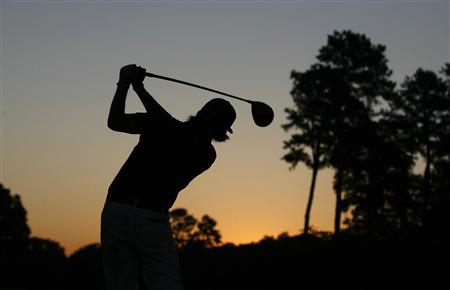 By Simon Evans
JOHNS CREEK, Georgia (Reuters) - After an unprecedented run of six successive majors without a winner from the United States, leading American golfers are hoping the PGA Championship ends the barren run -- even if bookmakers think it unlikely.
Northern Ireland's Rory McIlroy is the favorite for this year's tournament while Britain's world number one Luke Donald is second-favorite alongside compatriot Lee Westwood.
To add to the sense that the tournament, formed by and for the U.S.'s professionals, is becoming the property of international players, Germany's Martin Kaymer enters Thursday's first round as the defending champion.
No American has won the PGA since Tiger Woods in 2007 with Ireland's Padraig Harrington and South Korea's Yang Yong-eun victorious in 2008 and 2009.
There has, however, been little soul-searching or agonizing in the U.S. golf fraternity where the consensus is that success in the sport goes in cycles and that the increased globalization of the game makes more winners from around the globe inevitable.
"I think it says a lot about the international players," says David Toms, PGA Championship winner in 2001, the last time the tournament was held at The Atlanta Athletic Club.
"I know there are a lot of good, young American players that are just waiting to get that first big event and go on to bigger and better things. I don't think it is a lack of American talent It's just, well, how many foreign players are there?
"The odds are one of them is going to have the chance to win," he said.
YOUNG STARTERS
Another factor, highlighted by the emergence of Japan's 19-year-old Ryo Ishikawa and 18-year-old Italian Matteo Manassero, is that foreign players are getting professional experience much earlier than Americans who usually go through college before turning pro.
"Overseas it is different. Guys are turning pro at a very young age and getting way more experience than we ever had playing professional golf and they're better earlier than even my generation," said Woods, who at 21 became the youngest man win the U.S. Masters.
Also, the days when European players would come to the U.S. with little experience of the very different conditions have long since gone with the PGA Tour itself now attracting performers from all over the globe on a regular basis.
"It's not like they play all over the world and come together here for a couple of weeks in the year. It is week-to-week that we see these players and they are very talented.
"But we have a lot of (good) American players and I think once they break out and get that first win and then their buddy sees that they can do it, I think it will be a snowball effect there," said Toms.
While Woods and Phil Mickelson may be many observers' favorites to end the winless streak, American hopes are also turning to the young guns -- Bubba Watson and Rickie Fowler who have both impressed Ryder Cup captain Davis Love III.
"Rickie is just an aggressive, confident, cocky putter and both of them are free-swinging, free-spirited, aggressive players and that is what we need. We need guys like that, that are fearless," he said.
There are other hopes too - Nick Watney and Dustin Johnson could be in the frame this week along with the experienced Steve Stricker - but even if a seventh straight major does not go to an American, don't expect wails of anguish just yet.
"We don't sit around and talk about it over lunch or anything," says Stricker.
"But I think what has happened the last six majors fuels the fire of Americans to try and break that streak. No doubt."
(Editing by Rex Gowar)