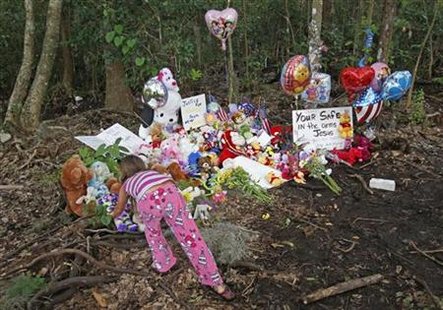 By Barbara Liston
ORLANDO, Fla (Reuters) - A balloon and butterfly release and the unveiling of a proposed memorial on Tuesday will mark what would have been the 6th birthday of Caylee Marie Anthony, the Florida toddler whose 2008 disappearance and death triggered a national outpouring of grief.
Bring Kids Home, a charity for missing and abused children, wants to erect a memorial for Caylee in the swampy, wooded area just outside Orlando where her remains were found.
Caylee's mother, Casey Anthony, was acquitted in July of killing her 2-year-old daughter after a nationally televised trial. Casey Anthony, 25, disappeared from public view after her release from jail and reportedly is living out of state.
Eddie DelValle, Florida director of Bring Kids Home, said the memorial plans include a raised path that will take visitors into the woods and around a light-projected halo marking the spot where Caylee's skeleton was recovered.
DelValle said hundreds of tourists from around the world still make pilgrimages to the site.
DelValle, a Christian counselor, said he sets up a tent there for two hours every Sunday and counsels an average of 50 grieving people each time.
"Mostly tourist families come here. I've met people from Germany, Canada and Orlando. Some you see, they break down at the site," DelValle told Reuters.
As part of the memorial, individuals would be able to buy and inscribe messages on bricks for $80 for a roadside wall marker. Corporate bricks will start at $150.
The organization said the brick sales will help pay for the expected $200,000 cost of the project and allow people to participate in a project remembering Caylee and other missing children, whose names will be inscribed on the wall.
DelValle said the national Bring Kids Home organization is negotiating the purchase of the land. The memorial also will require zoning clearance and permits.
Caylee lived with her mother at her grandparents' house around the corner from the site. DelValle said Caylee's grandparents, Cindy and George Anthony, were not contacted about the memorial.
(Editing by Colleen Jenkins and Greg McCune)