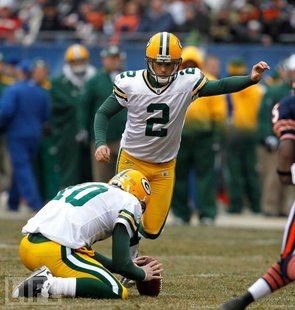 EAST RUTHERFORD, NJ (TSN-WSAU) Mason Crosby connected on three field goals to lift Green Bay to a 9-0 victory over the New York Jets. The win moves the Packers into first place in the NFC North.
Aaron Rodgers finished 15-of-34 for 170 yards for the Packers (5-3), who have won two in a row. Greg Jennings posted six receptions for 81 yards and Brandon Jackson added 55 yards on 15 carries.
Mark Sanchez threw for 256 yards but was intercepted twice on 16-of-38 passes for the Jets (5-2), who suffered their first defeat since their opening-week loss against Baltimore.
The Jets committed three turnovers, including a controversial Charles Woodson interception on the Jets' deepest drive into Packers territory in the second half. Woodsoon appeared to wrestle the ball away from the Jets receiver after both players were on the ground. The Jets were out of challenges at the time.
The Jets also hurt themselves on a fake punt in the first half that was stopped a yard short of a first down. The Packers converted the short-field opportunity into a 20-yard field goal that was the only scoring in the first half.
The Packers defense stopped the Jets on 4th down late in the game, setting up a 40-yard field goal for the Packers late in the game to ice the win.
LaDainian Tomlinson was held to 54 yards rushing on 16 carries and Jerricho Cotchery had four catches for 89 yards.
The Packers return to Green Bay to play the Dallas Cowboys on Sunday night next week.