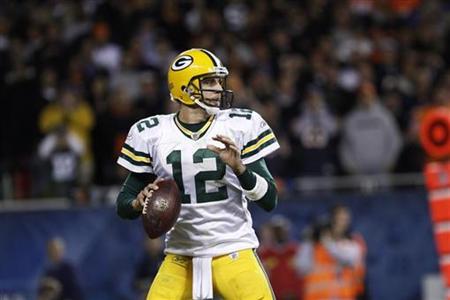 CHICAGO (Reuters) - Green Bay Packers quarterback Aaron Rodgers was declared active for Sunday's home game against the Miami Dolphins while linebacker Clay Matthews was ruled out because of a lingering hamstring injury.
Rogers made his 38th consecutive regular season start just seven days after suffering a concussion following a late hit in a 16-13 loss at the Washington Redskins.
The quarterback had been listed as a probable starter against the Dolphins after going through a full workout with the team on Friday and passing all of the required medical tests in order to be cleared.
Matthews, who leads the NFL with 8-1/2 sacks this season, was initially listed as doubtful and Sunday's decision to leave him out meant he missed the first game of his professional career because of an injury.
The injury-hit Packers were also without linebacker Brandon Chillar (shoulder), tight end Jermichael Finley (right knee), right tackle Mark Tauscher (shoulder) and defensive ends Mike Neal (shoulder) and Ryan Pickett (ankle).
(Writing by Mark Lamport-Stokes in Los Angeles; Editing by John Mehaffey)