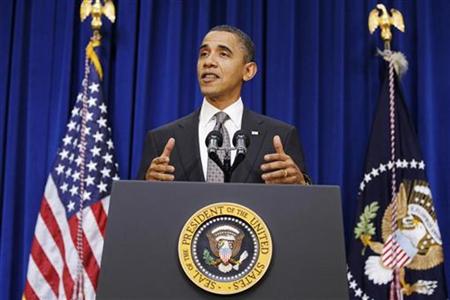 WASHINGTON (Reuters) - President Barack Obama on Tuesday reiterated his call for the Senate to ratify a new nuclear arms control treaty with Russia, calling it "absolutely essential" to U.S. national security.
Obama said among the issues he discussed in White House talks with Democratic and Republican congressional leaders was the need to win approval of the new START pact.
The president has pledged to make ratification of the treaty a top priority for the remaining weeks of the current session of Congress, which ends shortly after the start of the New Year, but Republican opponents have shown no sign of removing obstacles that stand in the way.
"I reminded the room that this treaty's been vetted for seven months now. It's gone through 18 hearings. It has support from senators from both parties. It has broad bipartisan support," Obama told reporters after the meeting.
"It's absolutely essential to our national security," he said. "We need to get it done.
Obama and Russian President Dmitry Medvedev signed the agreement in April, committing the former Cold War rivals to cutting deployed nuclear weapons by as much as 30 percent -- to no more than 1,550 -- in seven years.
Democrats want to ratify the treaty before the new Congress takes office, fearing it may be harder to pass afterward because of Republican gains in the November elections.
Ratification of the treaty during the so-called lame duck session was thrown into doubt when Senator Jon Kyl, the top Republican negotiator on the issue, said he did not believe there was enough time to resolve outstanding differences.
The White House has warned that failure to ratify the deal, a signature foreign policy initiative and part of Obama's declared vision of eventually ridding the world of nuclear weapons, could undermine Russian cooperation on issues like Iran sanctions and the Afghanistan war.
(Reporting by Matt Spetalnick; Editing by Doina Chiacu)