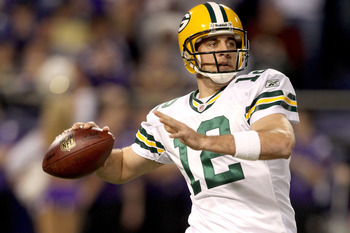 ATLANTA (TSN-WSAU) Matt Bryant connected on a 47-yard field goal with nine seconds left to give the Atlanta Falcons a 20-17 win in a hard- fought battle with the Green Bay Packers at the Georgia Dome. The winning kick was set up by a sputtering Packers kick-off coverage team. After the Packers scored a game-tying touchdown, the Falcons took the kickoff to the 36-yard line, and got an additional 15-yards on a facemask penalty. Atlanta moved the ball to the Packers 29 to set up the winning kick.
Matt Ryan was 24-for-28 with 198 yards and a score and Michael Turner added 110 yards and a touchdown on 23 carries for the Falcons (9-2), who have won their past five games. Tony Gonzalez had six catches for 51 yards and a touchdown in the victory.
The win allowed Atlanta to stay a game ahead of New Orleans, which defeated Dallas on Thanksgiving, for the top spot in the NFC South. Tampa Bay, which hosts Atlanta next week, plays Baltimore later on Sunday with a chance to move into a tie with New Orleans.
Aaron Rodgers finished the contest with 344 yards and a score on 26-of-35 passing and added 51 yards on 12 carries with a touchdown for the Packers (7-4), who came into the contest with a four-game winning streak. Jordy Nelson caught a touchdown pass on 4th-and-goal from the 10that tied the game in the final minute.
The Packers play the 49ers in a must-win game next Sunday at Lambeau Field.
The Packers find themselve a game behind the Chicago Bears in the NFC North. The Bears beat the Eagles Sunday afternoon, 31-26. If the season ended today, the Packers would miss the playoffs.