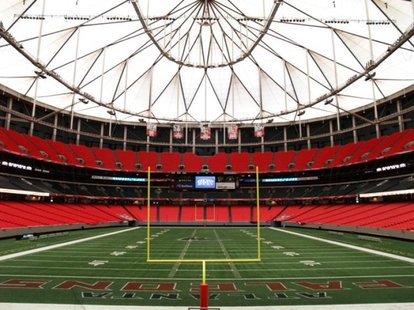 ATLANTA, GA (TSN) It's common for southerners to make their guests feel right at home. The Atlanta Falcons haven't received that memo and look to make Green Bay's visit to the Georgia Dome a forgettable one when the two NFC powerhouses collide Sunday afternoon.
The Falcons are 5-0 at home this season and own an 18-3 record under head coach Mike Smith at the Georgia Dome. Rising young star Matt Ryan is 18-1 (.947) as the host -- the most home wins for any quarterback in the league over the last three seasons. He's also won 14 straight in Atlanta.
Ryan, who has thrown at least one touchdown pass in a career-high nine straight games, led the Falcons to a 34-17 victory over St. Louis on Sunday from the Edward Jones Dome, improving to 20-4 in dome games since the 2008 campaign. He completed 26-of-39 passes for 253 yards and two scores, and has six touchdown passes with no interceptions in his last three games. Ryan is part of an offense that hasn't turned the ball over in three straight weeks.
"What can you say about him? Our guy continues to mature, it is his third season as we all know and I think each and every game he continues to get better," Smith said of Ryan after improving to an NFC-best 8-2. "Matt has a very good understanding of our offense and he is becoming the leader of our football team."
Atlanta was able to orchestrate the no-huddle offense with ease under Ryan, the 2008 Offensive Rookie of the Year, and used 70 offensive plays to shut down the Rams' defense. Racking up 391 yards of offense and running back Michael Turner recording another 100-yard performance helps too, as the Falcons posted their fourth straight win and lead both New Orleans and Tampa Bay by one game in the NFC South.
Turner will try to penetrate the Packers' tough defense for his sixth 100-yard effort of the season. He came away with 131 yards and a score on 28 carries last week and has hit the century mark in rushing five times this season. A productive Turner usually translates into a more dangerous day for Ryan.
Green Bay will be ready for whatever Ryan and the Atlanta offense has to offer, as it's coming off Sunday's 31-3 rout of the downtrodden Minnesota Vikings at Mall of America Field.
Aaron Rodgers destroyed Minnesota's secondary for 301 yards and a career-high four touchdown passes, leading the Packers to their fourth straight win and a 7-3 record. The Packers are tied with the Chicago Bears atop the NFC North standings and are in the midst of playing four of five games outside of Lambeau Field. That hasn't mattered so far for Rodgers and a potent offense.
"When he gets in a zone like that, there is no quarterback better," said wideout Greg Jennings, who ended with 152 yards and three scores on seven receptions. "He is so accurate, able to extend plays with his legs, then he can run when you give him the lane. He puts a lot of pressure on the defense when you have a quarterback back there who can do everything you don't want him to be able to do. It's exciting for us."
What's also exciting for the offense is that it has yet to turn the ball over for three straight games, something it hasn't done since the 1963 campaign. Green Bay had turned the ball over 13 times over the first seven weeks after the team established a new franchise-low with just 16 giveaways for the entire 2009 regular season. The last turnover for the Packers was a Rodgers interception against Minnesota at home back in Week 7.