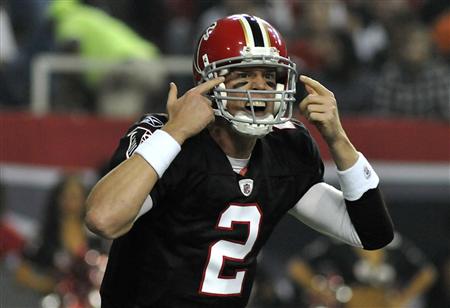 By Simon Evans
MIAMI (Reuters) - The Green Bay Packers will visit the Atlanta Falcons on Sunday in a matchup featuring two of the top young quarterbacks in the NFL and a pair of Super Bowl contenders riding four-game winning streaks.
The Packers (7-3) are coming off a convincing 31-3 victory over divisional rival Minnesota while the Falcons (8-2), owners of the NFC's best record, beat St. Louis 34-17 to record their eighth win in nine games.
Packers quarterback Aaron Rodgers and Atlanta signal caller Matt Ryan are each in their third season as a starter and both have handled the pressure despite having to follow big acts.
Rodgers replaced Brett Favre, who left Green Bay in 2008 after 16 seasons and Ryan took over the Atlanta offense from the explosive Michael Vick.
Packers head coach Mike McCarthy says he sees similarities in the way the pair have handled their responsibilities.
"I would say consistency in their personalities. I don't know Matt personally, but he seems like a very consistent young man and he has been successful, and I'm sure that has a lot to do with it," said McCarthy.
"He looks like he is the same personality week in and week out, and I think that has a lot to do with his level play. He looks to be a very consistent quarterback."
Ryan has been a model of consistency at Atlanta's Georgia Dome, where he has an 18-1 record as a starter and is 5-0 this season with 11 touchdown passes.
But Ryan was not the only player drawing praise from an opponent as Atlanta head coach Mike Smith said he is impressed with the way Rodgers has matured this year.
Rodgers threw a career-high four touchdown passes in last week's victory at Minnesota, including three to wide receiver Greg Jennings.
"They have a very good quarterback who is operating as well as any in the league," said Smith. "They've got some very good receivers and we are going to have to contain their passing game."
NFL action will get an early start this week with three games scheduled on Thursday for the U.S. Thanksgiving holiday.
The Detroit Lions (2-8) will kick off Thursday's slate of games when they host the New England Patriots (8-2), who are on a high after their win over the Indianapolis Colts last week.
The Dallas Cowboys (3-7) will look to upset the Super Bowl champion New Orleans Saints (7-3) and make it three straight wins after replacing coach Wade Phillips with Jason Garrett.
In the late game, the New York Jets (8-2) have a rematch of last year's playoff game against the Cincinnati Bengals (2-8), who have lost seven straight since September 26. Cincinnati ended last season with a loss to the Jets.
In other action on Sunday, Tampa Bay (7-3) are at Baltimore (7-3) while the Jacksonville Jaguars (6-4), surprise leaders in the AFC South, will have to produce something special to continue their revival at the New York Giants (6-4).
(Reporting by Simon Evans; Editing by Frank Pingue)