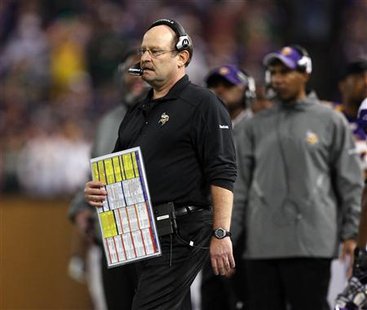 NEW YORK (Reuters) - The Minnesota Vikings have fired coach Brad Childress after a disappointing 3-7 record and named Leslie Frazier as interim head coach until the end of the season.
The Vikings, runners-up in the NFC last season, suffered a 31-3 loss to divisional rivals the Green Bay Packers Sunday, leaving them all but out of the post-season reckoning.
"The Minnesota Vikings have relieved Brad Childress of his head coaching duties," the Vikings said in a statement on Monday. "Leslie Frazier has been named interim head coach and will serve in that capacity for the remainder of the season."
Childress's relationship with quarterback Brett Favre has been strained at times and his position was further weakened after the signing and then release less than a month later of seven-time Pro Bowl receiver Randy Moss.
The Vikings were expected to be among the contenders for a Super Bowl berth but have struggled with Favre badly out-of-sorts and Childress facing increasing criticism of his coaching.
Frazier was defensive coordinator under Childress and has previously worked at Indianapolis, Cincinnati and Philadelphia.
As a player, he was a cornerback/safety who was part of the Chicago Bears team that won the Super Bowl at the end of the 1985 season.
Vikings owner and chairman Zygi Wilf paid tribute to Childress for his role in making the team a force again but refused to discuss whether Frazier was a candidate for the job on a permanent basis.
FAVRE STARTS
Frazier moved quickly to dismiss suggestions that he was ready to bench Favre.
"There is no hesitation for me in that regard. Brett is a tremendous quarterback and he's been a leader of the team in the one and a half years that he has been here," he told a news conference.
"There are some things we have to do to support him. Brett will be our starting quarterback on Sunday," he added, referring to the game with the host Washington Redskins.
Childress, who had an overall 40-37 record in the job, said in a statement posted on the team's website that he believed he had improved the Vikings.
"I have a great respect for the players and coaches who I have worked with and for their dedication to each other and to the organization. I am proud of our accomplishments and believe the foundation of this football team is stronger today than when I became head coach in 2006," said Childress.
The Vikings lost to the New Orleans Saints in overtime of the NFC title game last season and Favre returned for what he said would be his final year after missing pre-season training camp.
(Reporting by Simon Evans in Miami; Editing by Steve Ginsburg)