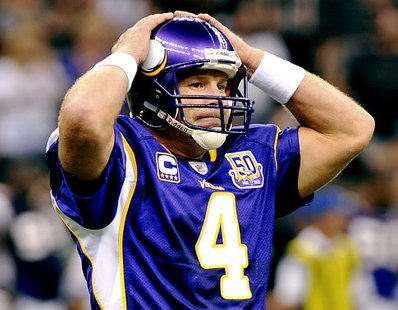 MINNEAPOLIS (TSN-WSAU) Aaron Rodgers and Greg Jennings connected for three touchdowns, and Green Bay moved into a first-place tie in the NFC North with a 31-3 rout of Minnesota.
Rodgers threw for 301 yards and four touchdowns on 22-of-31 passing, hooking up with Jennings seven times for 152 yards as the Packers (7-3) captured their fourth straight win to join Chicago atop the division.
Jennings scored touchdowns in each of the last three quarters, part of a 31-0 run to end the game for Green Bay. James Jones also had a touchdown catch in the win.
Rodgers spread the ball out to seven receivers, showing up predecessor Brett Favre for the second time this season.
Favre played it fast and loose as usual, completing just 17 of his 38 passes for 208 yards and an interception that the Packers converted into a touchdown. Favre got into an animated arguement with some of his coaches and teammates after being picked off by Tremon Williams, leading to a Packers 6-play touchdown drive. Favre was sacked only once, but was knocked down and pressured throughout the game.
The Vikings (3-7) had Sidney Rice in the lineup for the first time this season after activating their Pro Bowl receiver from the physically unable to perform list Saturday. But Rice, who was out with a hip injury, made little difference with three catches for 56 yards.
The Packers play in Atlanta against the Falcons at noon next Sunday.