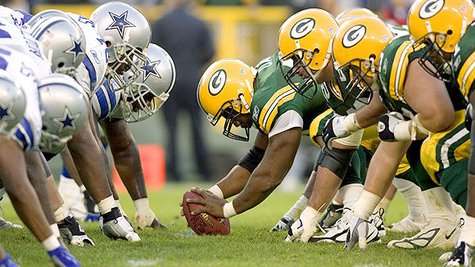 GREEN BAY, Wis (TSN-WSAU) Eight weeks later, the world's upside down.
Republicans are replacing Democrats on Capitol Hill. Giants of San Francisco are scaling heights last reached by their decades-gone namesakes in upper Manhattan. And a potential showdown for supremacy in the NFC has become...well, something else.
Rather than a midseason hors d'oeuvre for a late January main dish, Sunday's primetime matchup between the Dallas Cowboys and Green Bay Packers at Lambeau is now more trail mix than tempura.
Already in a 1-4 hole through mid-October, Jerry Jones' Cowboys plunged even further in two subsequent weeks, seeing quarterback Tony Romo sent to the sidelines with a broken collarbone in a loss to the New York Giants on Oct. 25 and replacement Jon Kitna picked off four times in an 18-point debacle against Jacksonville this past Sunday.
Vultures were circling amid reports earlier this week that Wade Phillips would be the initial casualty of the 1-6 start, but the fourth-year head coach has at least temporarily survived, thanks in large part to Jones' reluctance to make such a drastic in-season move.
"Frankly, I've never been this disappointed. I've never been more surprised," said Jones after the 35-17 loss to the Jaguars. "I think anybody has and would have the emotional or knee-jerk thought about just changing something to be changing it. What has got to be taken into consideration is how effective those changes can be.
"When you start talking about changing, you start talking about changing philosophy, so that's why I don't go there."
Meanwhile, the Packers play the host after returning from their most impressive road win of the season, a 9-0 blanking of the New York Jets in which they committed no turnovers for just the second time in 2010 and moved into sole ownership of first place in the NFC North.
It was Green Bay's first road shutout since 1991 and it yielded NFC Special Teams Player of the Week honors for Tim Masthay, who put five-of-eight kicks inside the 20-yard line to become the first Packers punter to earn the award in 16 seasons.
It was also the Packers' second straight win since a maddening two-game dip earlier in October that had seen consecutive losses via overtime field goals. Now 5-3, the Packers are just a half-game off the conference-leading pace being set by Atlanta, Tampa Bay and the Giants. They'll be on a bye next week before returning for road dates at Minnesota and at the Falcons.
"[At] 5-3, we have a chance to get things done and get a win here at home, which is what we want, then head into the bye and get healthier," said quarterback Aaron Rodgers, who threw for 170 yards on 15-of-34 passing against the Jets. "So are [the Cowboys] a team that needs a win with the situation they are in."
The Cowboys own a 12-11 edge in the all-time regular-season series.