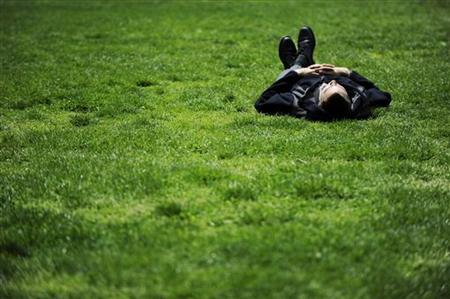 NEW YORK (Reuters) - Just two days before the U.S. Memorial Day weekend kicks off the summer season, New York's lawmakers reached a deal to keep state parks open by tapping an environmental fund, Governor David Paterson said on Thursday.
Some 41 parks were scheduled to be shut and services were to be cut at another 23 sites to help close the state's $9.2 billion deficit.
"The Legislature has made the tough choices to my satisfaction and that will enable us to open the parks," Paterson said during an interview with WOR radio.
"The bad news is that is has taken us about four days to find $11 million to keep the parks open," he said.
Separately, the governor said he expected environmentalists to criticize his decision to withdraw about $74 million from the environmental fund, but praise a new plan for making it easier to safely discard of electronic waste, such as old CD players.
Though the Democratic-led Legislature is expected to approve the parks bill as soon as Thursday, they have yet to accept about $2 billion to $2.5 billion of budget cuts the governor proposed, Paterson's spokesman said.
HARD TIMES FOR SCHOOLS AND HEALTHCARE
Many of the cuts would hit education and healthcare hard, and Paterson said he doubted a new $135 billion budget would be enacted by June 1 -- a full two months after the deadline.
Asked about an Assembly plan to raise millionaires' income taxes, Paterson said: "I won't take anything off the table."
But last year's increase in the state personal income tax only raised $3.6 billion -- about $600 million less than anticipated, he said.
"There aren't that many millionaires right now," he said.
New York's top income tax rate of 8.97 percent for people who earn at least $500,000 a year is one of the nation's highest, but still below the record top rate of 15 percent that was assessed from 1969 to 1977, according to the state tax department's website: http://www.tax.state.ny.us/pdf/stats/policy_special/electronic_sourcebook/tables/current/pdf/table_30_2009.pdf
A spokesman for Assembly Speaker Sheldon Silver said: "Right now, all we're focused on is making tax cuts."
Senate Democratic leaders are opposed to tax hikes.
Democratic Attorney General Andrew Cuomo, the front-runner in the November gubernatorial race, said on his campaign website that he "will not raise and will veto any increase in personal or corporate income taxes or sales tax."
New York faces a June 1 deadline for relaxing rules for charter schools to boost its chances of winning about half a billion dollars from the federal Race to the Top program.
Issues that Paterson and state lawmakers must resolve before a June 1 deadline, which is this coming Tuesday, include figuring out how public schools and charter schools can fairly share the same building, the governor said.
(Reporting by Joan Gralla; Editing by Andrew Hay and Jan Paschal)