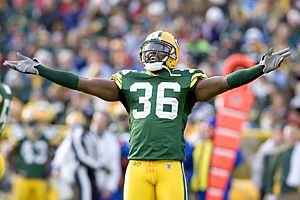 GREEN BAY, Wis. (WTAQ) - The Green Bay Packers agreed to terms with 2 key defensive players on long-term deals Friday. Safety Nick Collins signs a 3-year contract extension worth a reported $23.4 million. The deal for the 27-year-old includes $14 million in the first-year, according to the Milwaukee Journal-Sentinel. Collins went to the Pro Bowl for the second-straight season in 2009 and signed his restricted free agent tender earlier this week.
"The Packers always try to be proactive in our discussions with our current players and we are pleased we were able to come to an agreement with Nick," said Packers GM Ted Thompson. "Nick has been an impact player for us, and we look forward to having him continue his career as a Packer."
Meantime the green and gold also signed nose tackle Ryan Pickett to a long-term contract. The deal with the 30-year-old will keep him in a Packer uniform through the 2013 season. Pickett is a 9-year veteran who had 47 tackles last season.
"We have continued to talk to Ryan and his representatives and are pleased we were able to sign Ryan to this extension," said Thompson. "He has been a key part of our success on defense, and we look forward to having Ryan be a part of our future in Green Bay."
(photo courtesy of ESPN)