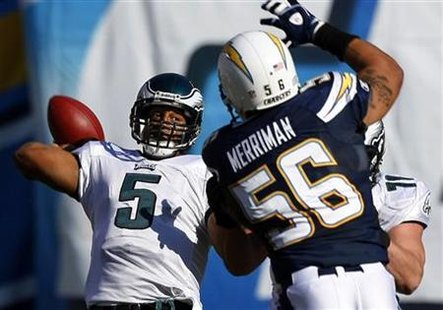 NEW YORK (Reuters) - The NFL tip-toed into the great unknown Friday when the league's salary cap came off the books and a free-agent signing period began.
Freed from the shackles of a salary cap for the first time since 1993, teams can embark on unchecked spending sprees or slash salaries to the bone as the NFL enters the final year of the labor deal that helped turn the league into a sporting titan.
With negotiations for a new collective bargaining agreement stalled, the NFL will play the 2010 season without a cap and with dark clouds on the horizon with the threat of a lockout or work stoppage looming in 2011 if a deal cannot be reached.
No one is certain what the NFL landscape will look like without last year's $128 million cap and with 531 free agents at liberty to negotiate with all 32 clubs as of 12:01 Friday.
With no floor or ceiling on what franchises can spend it is feared some teams will embrace the New York Yankees' philosophy on how to win a championship and open their wallets while others will cut back, eroding the competitive balance that has formed the bedrock of the NFL's success.
"There are so many rumors before free-agency starts and then afterward there's speculation," Washington Redskins general manager Bruce Allen told the team's website (www.redskins.com).
"We divided out our staff and went after the players we think will fit what we're looking to accomplish this season."
Just before the start of the free-agency period the NFL issued a statement outlining rules and regulations put in place to keep the league from descending into free-agent chaos.
BIG NAMES
The top eight teams last season have additional restrictions that limit their ability to sign unrestricted free agents (UFA) and curb the amount they are allowed to pay those players.
The top four teams from last season cannot sign any UFAs unless one of theirs is signed by another team and with no salary cap players must have six years of NFL experience to become free agents instead of four.
While most observers believe the free-agent pool lacks quality there are still plenty of big names that are likely to attract attention, including Carolina defensive end Julius Peppers, Denver sack machine Elvis Dumervil, San Diego linebacker Shawne Merriman, Miami running back Ronnie Brown and Arizona linebacker Karlos Dansby.
Chargers back LaDainian Tomlinson and Buffalo receiver Terrell Owens will also be looking for new homes.
"Julius Peppers is a very good football player," said Allen. "He's a good player but I think he's going somewhere else."
(Writing by Steve Keating in Toronto, editing by Tony Jimenez)