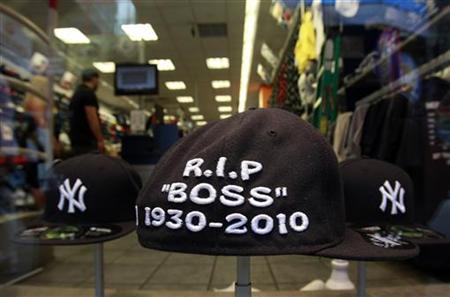 NEW YORK (Reuters) - The New York Yankees will pay tribute to former owner George Steinbrenner and long-time public address announcer Bob Sheppard, who both died this week, before Friday's game at Yankee Stadium.
A video tribute to Steinbrenner and a moment of silence for Steinbrenner and Sheppard, who welcomed fans to Yankee Stadium for over 50 years until 2007, are scheduled before the team's game against Tampa Bay, the Yankees said in a statement.
Steinbrenner, who resurrected the team from a period of decline and returned it to glory in the 1970s, died on Tuesday at age 80. The 99-year-old Sheppard died on Sunday.
During Friday's ceremony, a wreath will be placed in front of Steinbrenner's statue at Yankee Stadium, and another in front of Sheppard's plaque beyond the outfield fence.
(Writing by Gene Cherry in Raleigh, North Carolina; Editing by Frank Pingue)