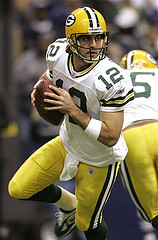 Glendale, Arizona (WSAU) AAron Rodgers completed 21-26 pass attempts for 235 yards and a score to lead the Packers to a 33-7 win over the Cardinals at University of Phoenix Stadium. Rodgers also had a rushing touchdown as Green Bay finished the regular season 11-5. Ryan Grant rushed for 51 yards and a score and Charles Woodson returned an interception 45 yards for a Td but later left the game with an injured shoulder.He is expected to play on Sunday.
The Packers will face the Cardinals again this Sunday in the first round of the NFL playoffs. Kickoff is set for 3:40 central time.
The Cardinals chose to pull alot of their starters after the first quarter and didn't blitz Rodgers once the starters left. Packer coach Mike McCarthy chose to keep his starters in for most of the game.