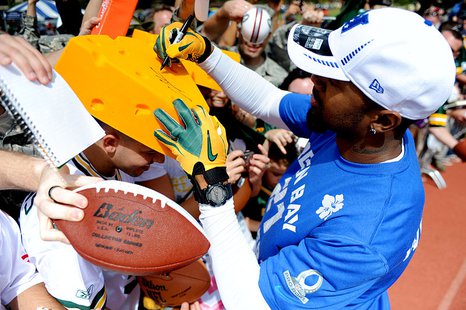 UNDATED (WSAU) The Packers storm into the playoffs, finishing the second half of the season with a 7-1 record. Green Bay closed out the regular season with a convincing 33-7 win over the Arizona Cardinals. The two teams will meet again next week in the opening round of the NFL playoffs.
Both teams had different approaches to the final game of the season. Arizona began pulling their defensive starters late in the 1st quarter. The Packers scored two touchdowns on their first possessions on the Cardinal's number-one defense. Arizona's starting offense played three series in the first half, failed to score, and was out of the game by the start of the second quarter. The Packers continued to play their starting offense into the third quarter. Aaron Rodgers engineered three touchdown drives, completing 21-of-26 passes for 235-yards.
Charles Woodson continued to be a defensive stand-out for the Packers. He intercepted a Matt Leinert pass in the second quarter, and returned it for a 45-yard touchdown. Woodson left the game in the third quarter after injuring his shoulder. The injury is not expected to be serious.
Arizona's only points came late in the fourth quarter. Matt Flynn was intercepted, and on the next play back-up quarterback Brian St. Pierre completed a 3-yard touchdown pass to Larry Fitzgerald.