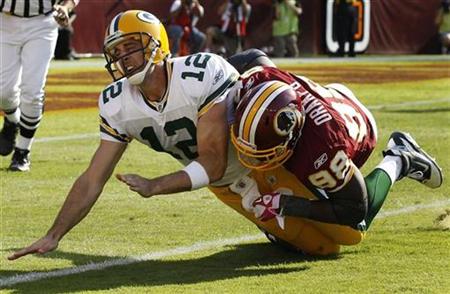 NEW YORK (Reuters) - Green Bay Packers quarterback Aaron Rodgers has returned to practice after being cleared to play following his second concussion of the season, the Packers said on Wednesday.
"He looked great," Packers coach Mike McCarthy told a news conference in Green Bay. "I thought he threw the ball very well."
McCarthy said he anticipated Rodgers would start Sunday's key home game against the New York Giants, the Packers website (www.packers.com) reported.
Rodgers missed last week's loss to the New England Patriots because of the concussion, which he suffered against Detroit on December 12.
Green Bay (8-6) needs a win against the Giants (9-5) to keep its playoff hopes alive.
(Writing by Gene Cherry in Salvo, North Carolina; Editing by Clare Fallon)