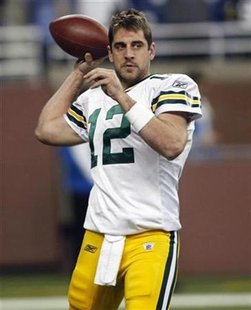 CHICAGO (Reuters) - Green Bay Packers' quarterback Aaron Rodgers is still suffering the effects of a concussion from last week and will not play against the New England Patriots Sunday.
The team announced Saturday that third-year backup Matt Flynn would make his first start and the Packers have signed rookie quarterback Graham Harrell from the practice squad to back him up.
Rodgers, who was injured in last Sunday's loss to Detroit, did not practice with the team during the week but had not been ruled out until Saturday when the Packers revealed he was unable to progress through the NFL's concussion protocol.
Rodgers suffered a concussion earlier this season during an overtime loss to the Washington Redskins on October 10. He was cleared for action four days later.
Rodgers had started 45 consecutive regular-season games for the Packers, and Flynn's start will be the first by a backup for Green Bay since 1992.
(Reporting by Mike Mouat in Windsor, Ontario. Editing by Peter Rutherford)