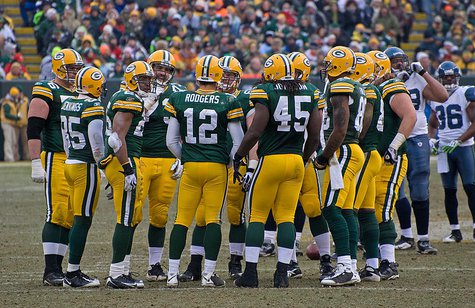 DETROIT (TSN-WSAU) Drew Stanton threw for the game's lone touchdown late in the fourth quarter for what proved to be the winning score as Detroit downed Green Bay, 7-3, in a defensive struggle at Ford Field.
Stanton ended the game with 117 yards on 10-of-22 passing with two interceptions for the Lions (3-10), who broke a five-game losing streak. Maurice Morris had 51 yards on 11 carries while Calvin Johnson had one catch for 44 yards in the win.
Meanwhile, the Packers lost their All-Pro signal caller Aaron Rodgers, who suffered a concussion during the contest. Rodgers has shined in the series, coming into the game with a 5-0 record, throwing 14 touchdowns and a 105.3 passer rating. Instead, he found himself on the sideline for the entire second half after the injury.
Rodgers scrambled up the middle and was hit from behind by Landon Johnson with 2:43 left in the first half. Matt Flynn replaced Rodgers and completed 15- of-26 passes for 177 yards while getting picked off once for Green Bay, which has lost two of its last three.
Back-up quarterback Matt Flynn was erratic for the Packers. He marched the team 70 yards in the 3rd quarter, but threw an interception on the Lions 10-yard line. It was the Packers longest drive of the day. On 4th and 1 late in the game, Flynn overthrew Greg Jennings in the end zone on the Packers final offensive play.
Green Bay came into Sunday a game behind Chicago for first place in the NFC North.
The Packers play at New England next Sunday night. If the season ended today the Packers (8-5) would miss the playoffs.