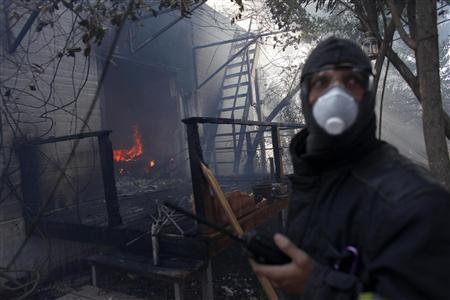 By Haim Shafir and Ran Tzabar
HAIFA, Israel (Reuters) - Israel struggled to contain a huge and deadly forest fire that raged on for a third day on Saturday, despite the efforts of firefighting planes from half a dozen countries.
The worst inferno in Israel's history has killed 41 people, forced 17,000 to flee their homes and destroyed some 10,000 acres of woodland near the port of Haifa. By nightfall it had still not been brought under control.
Police spokesman Micky Rosenfeld said two people suspected of starting the blaze through negligence were arrested, after a commander said he believed it had spread from a camp fire that was not properly extinguished.
Israel Radio said the suspects were 16-year-old boys from a village bordering on the Carmel region woodlands where the fire was focused.
"It looks as though this is the result of negligence," said Roni Atiya, a regional police commander, adding there was no evidence of any link to terrorism.
Foreign firefighting planes joined the battle to contain the blaze after Prime Minister Benjamin Netanyahu appealed for help because of a shortage of such aircraft in Israel.
Planes and helicopters from the United States, Spain, Azerbaijan and Switzerland were expected to join those from Russia, Turkey, Greece, Britain, France and Cyprus, already dumping water on the flames.
NATIONS RUSHING IN SUPPLIES
Jordan, Egypt and Bulgaria were among other nations rushing in supplies such as flame retardant, fire trucks and crews, to help Israel cope with the conflagration.
Palestinian President Mahmoud Abbas also offered to send help, in a rare telephone conversation with Netanyahu. The two were not believed to have spoken since U.S.-sponsored peace negotiations stalled in September.
Abbas voiced condolences to Israel for those who died in the fire. Most were prison cadet trainees on their way to evacuate 500 inmates from a penitentiary.
Netanyahu said he would establish a fleet of firefighter aircraft, which he told Abbas would be made available to Israel's Arab neighbors where necessary.
"It is clear that the battle to stop this fire will be decided from the air," Netanyahu said in a statement.
With his government under rising criticism for being caught unprepared, Netanyahu also announced plans to charter a Boeing 747 Supertanker to help quell the fires.
Many Israelis are angry and some are demanding an investigation into how their country, armed with the most advanced weaponry, could be short of emergency equipment to quell a fire.
(Writing by Allyn Fisher-Ilan; Editing by Mark Trevelyan)