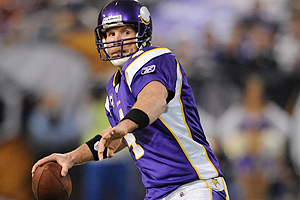 MINNEAPOLIS, Minn. (WTAQ) - Minnesota Vikings quarterback Brett Favre may not be returning for a 20th NFL season.
The Minneapolis Star-Tribune and Fox Sports' Jay Glazer both reporting Tuesday that Favre is informing teammates and Vikings officials he will retire. Glazer goes on further to say that number 4 is citing, "wear and tear on his body."
The Star-Tribune's Judd Zulgad reports that Favre plans to issue a press release later Tuesday.
The 40-year-old quarterback had surgery on his left ankle in May and had been working out at a high school in his native Mississippi.
Favre threw for 4,202 yards, 33 TD's and 7 INT's last season in leading the Vikings to the NFC Championship Game where they lost to the eventual Super Bowl Champion New Orleans Saints.
This would be the third time Favre has announced plans to retire. The first time was two years ago, when he left the Green Bay Packers in a tearful press conference, only to surface as the quarterback of the New York Jets.
He announced his retirement after that season, and told Vikings coach Brad Childress he hadn't changed his mind before signing a two-year contract with the team last August midway through preseason practice.
Minnesota Vikings head coach Brad Childress says he has not heard that Brett Favre has told team officials that he's retiring from football. Childress made his comments following the Vikings' morning practice at training camp in Mankato Minnesota, adding that he has had contact with Favre in the last 24 hours.
Childress says he's fine with whatever decision Favre makes and says the probable Hall of Famer will contact him whenever he decides on his future.
Favre started his career with the Atlanta Falcons in 1991. Favre holds the all-time records in all the major offensive categories for a quarterback. He's an 11-time Pro Bowl selection and led the Packers to the Super Bowl 31 title after the 1996 season.