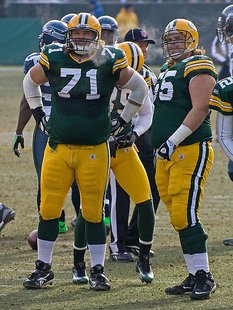 GREEN BAY, Wis (WSAU) The Green Bay Packers have re-signed Auburndale native Mark Tauscher.
The team made the announcement earlier today on the NFL transactions wire.
Tauscher had been with the Packers for the last nine seasons, and was regarded as one of the best offensive linemen in the league. He missed most of last season with an injured knee, and was not resigned last season.
Tauscher had worked out for the Kansas City Chiefs earlier this month, and was invited to Green Bay for a workout last week. Coach Mike McCarthy has said Tauscher appeared to be a good shape, but was unsure if he and the team would come to financial terms. The terms of Tauscher's contract have not been revealed.
The Packers offensive line has been the worst in the league this year in sacks allowed.
The Packers also announced that defensive-back Will Blackmon has been placed in injured reserve. He was injured in the Packers last game against the Vikings.