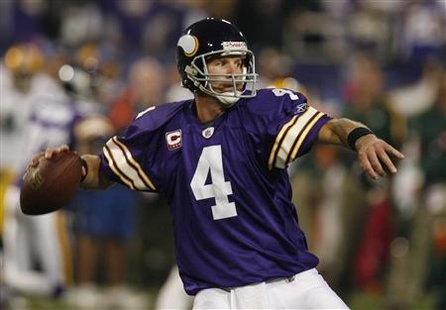 NEW YORK (Reuters) - Minnesota Vikings quarterback Brett Favre's match-up on Monday against his former team the Green Bay Packers was the most watched sports event ever on cable television in the United States, network ESPN said.
Favre's first game against the team he anchored for 16 years ended in a 30-23 win for the Vikings and was watched in 15,136,000 homes with an estimated 21,839,000 viewers, the network said in a statement.
The game, in which Favre became the only quarterback to defeat all 32 NFL teams, beat the previous cable viewership record, ESPN's Philadelphia Eagles at Dallas Cowboys 'Monday Night Football' broadcast of September 15, 2008 which was watched in 12,953,000 homes.
Favre, the NFL's all-time leading passer, more than lived up to the pre-match hype when he threw for 271 yards and three touchdowns to lead the Vikings to their first 4-0 start to a season since 2003.
ESPN said their figures did not include audiences for breaking news.
The top three most viewed cable TV programs in terms of viewers were NFL games, with Disney Channel's High School Musical 2 from 2007 the first non-sports program at fourth.
(Reporting by Simon Evans in Miami; Editing by Ossian Shine)