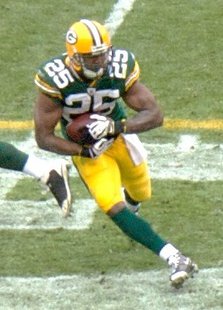 GREEN BAY, Wis (WSAU) The Green Bay Packers built a big lead in the first half, and held on late in the game for a 30-24 win over the San Fransisco 49ers.
The 49ers were inept in the first half, managing only 60-yards of total offense and 3 first downs. The Packers had a convincing 23-3 lead at halftime.
The 49ers opened up their offense in the second half with positive results. Quarterback Alex Smith threw for 3-touchdown passes, and got his team within 6-points with 6-minutes to play after a 4th down touchdown pass to Vernon Gore. But the Packers were able to salt away the game with a ball-control dive that ran out the clock.
The 49ers also hurt themselves with a key turnover in the second half. Smith was intercepted deep in his own end by Nick Collins earlier in the 4th quarter, giving the Packers the ball at the 12 yard line. Four plays later, Ryan Grant scored on a 1-yard run. It was the Packers only score of the second half.
Grant finished the game with 129-yards on 23 carries. Aaron Rodgers completed 32-of-45 passes for 344-yards.
The Packers also suffered two key injuries. Defensive back Al Harris left the game with a knee sprain in the second half. Aaron Kampman also went down in the second half, apparently re-injuring his knee. The status of both players is not known.
The Packers have won their last two games, and improve to 6-4. They have a short week to prepare for the Lions in Detroit on Thanksgiving. The 49ers drop to 4-6 for the season.
- - - - - - - - -
The Detroit Lions come into the Thanskgiving Day game after a controversial 38-37 win over Cleveland. Lions quarterback Matt Stafford threw what appeared to be a game-ending interception with :08 to play. But the play was wiped out an a pass interference call. The Lions won the game on a tocuhdown pass on the next play with 1-second remaining.