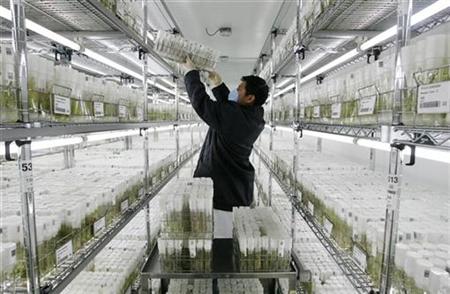 By Alister Doyle, Environment Correspondent
BARCELONA, Spain (Reuters) - New uses of genetic testing can help track how animal diets may change due to global warming and are helping crack down on wildlife smuggling, experts said on Saturday.
"There's been an extraordinary growth in the use of the technology," said David Schindel, executive secretary of the Consortium for the Barcode of Life (CBOL) at the U.S. Smithsonian Institution of a system for identifying plants or animals by their genes.
The database had more than doubled since 2007, with over 700,000 records representing 65,000 species, he told Reuters in a telephone interview.
The system is inspired by "barcodes" like the black and white identification tags on products in supermarkets. A snippet of animal tissue or plant material can be used to reveal a unique DNA genetic code in a laboratory for a few dollars.
Scientists said they are using the techniques to understand the food web by studying the DNA genetic code of food in the guts of hunters. About 350 experts will meet in Mexico from November 7-13 to discuss advances, including in identifying plant DNA.
Barcodes are helping to study relations "between hunter and prey in the wild and how diets may be changing due to climate change," says Scott Miller, chair of the CBOL.
"Tiny soil organisms eat each other, roots, and all sorts of plant and animal debris," he said in a statement.
"Knowing what eats what is important to many studies, including investigations into how much carbon dioxide and other greenhouse gases are being released from soils into the atmosphere," he said.
BATS
New research, for instance, shows that eight bat species feed on over 300 types of insect, one of the widest food webs known. Comparing diets now with those in future can help understand how climate change may affect nature.
Barcoding has widening applications, ranging from stopping wildlife smuggling, tracking the spread of agricultural pests or mosquito-borne disease.
Experts say courts in Uganda and Kenya often give the benefit of the doubt to smugglers of hard-to-identify bushmeat -- DNA coding can identify if the meat is from an endangered species of animal.
In Brazil, a man caught smuggling 58 eggs in 2003 said they were quails. The eggs never hatched but genetic testing showed that he was trying to smuggle parrots.
Barcoding is "a significant contribution toward the implementation of the Convention on Biological Diversity," CBD Executive Secretary Ahmed Djoghlaf said in a statement.
The systems might also be used to identify species of animals or plants buried in permafrost -- for tens or hundreds of thousands of years. No DNA fragments have yet been discovered from fossil dinosaurs, Schindel said.