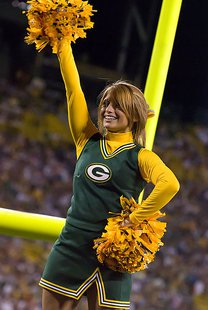 UNDATED (WSAU) In a low point for the season, the Green Bay Packers were defeated by the Tampa Bay Buccaneers. It was the first win of the season for a team that hadn't played in a close game since the opening week of the season. Tampa Bay took the lead on the touchdown pass late in the 4th quarter, and then ran back an Aaron Rodgers interception for a touchdown on the Packers last-gasp drive for a 38-28 victory.
The defeat was a microcosm of the Packers weaknesses all season. An apparent interception on what turned out to be the game-winning drive was wiped out by a penalty. With the Packers trailing late in the game, a sack and another penalty keep the Packers from moving the ball. Green Bay's offense struggled in the second half, scoring only one touchdown. Rodgers had his worst game of the season, completing just 17-of-35 passes for 266 yards. He threw 2-touchdowns and 3-interceptions and was sacked 6-times.
Tampa Bay got the win on the arm of rookie quarterback Josh Freeman. He struggled in the first half, but gained confidence as the game wore on. He finished 14-of 31 for 201 yards, threw 3-touchdowns, and was intercepted once. The Bucs has their first second-half lead in two months when Freman threw a 7-yard touchdown pass to Sammie Strougther in the far corner of the end zone.
The game included Ahman Green becoming the Packers all-time leading rusher. The recently re-signed running back carried the ball 6-times for 41-yards.