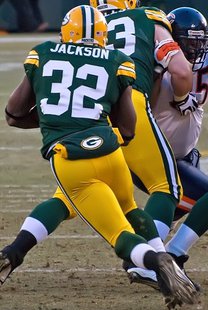 GREEN BAY, Wis (WSAU) The Packers blasted into the NFL playoffs with a convicing win over the Seattle Seahawks, 48-10. The Packers clinched a playoff birth with their win, and a Giants loss to Carolina, 41-9.
The Seahawks strugged for a second week in a row. Matt Hasselbeck was intercepted four times. The Packers converted those turnovers into three touchdowns.
Seattle's best drive was their first possesson. Using a strong running attack, the Seahawks drove to the Packers 36. On 3rd and 1, Hasselbeck threw an off-balance pass that was tipped and intercepted by AJ Hawk. The Packers scored the first points on the game on the following drive, a 13-yard pass from Aaron Rodgers to Brandon Jackson. The Packers never looked back. Green Bay mounted its longest drive of the game, 73 yards in five plays, on its next possession, capped by a 3-yard touchdown run by Ryan Grant.
Grant would score another touchdown in the second half on a 56-yard run. He finished with 97 yards. Jackson scored three touchdowns for the Packers; two running, and one catch.
Rodgers completed 12-of-23 passes for 237 yards. He threw for one touchdown and was not intercepted. He was pulled from the game in the 4th quarter with the outcome no longer in doubt. Hasselbeck was 19-of-37 for 198 yards. He threw for one touchdown and four interceptions.
The Packers play the Arizona Cardinals next week in what could be a preview of the opening round playoffs in two weeks.