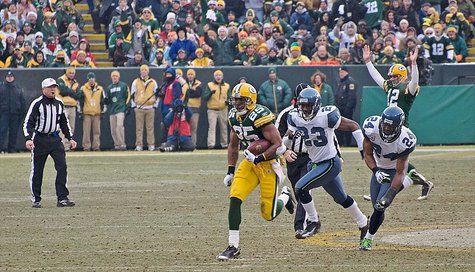 CHICAGO (WSAU) - The Packers rallied in the second half to beat the Chicago Bears, 21-14. It's the first time in his four seasons that Packers coach Mike McCarthy has swept the season series against the Packers biggest rivals.
The Packers dominated the early part of the game, but settled for field goals after two long drives of 5-minutes and 6-minutes. Midway through the 2nd quarter, the Packers had built a 13-0 lead, while the Bears managed only 25-yards of total offense and only 2 first downs.
But the Bears had their opportunities in the middle stages of the game. Chicago's first sustained drive of the game led to a 20-yard touchdown pass from Jay Cutler to Johnny Knox. The Packers failed to move the ball during their first two possessions in the second half, and allowed the Bears to take the lead mid-way through the 3rd quarter. The Bears go-ahead drive started after an Aaron Rodgers fumble. 6 plays and 56-yards later, the Bears had a 14-13 lead on a 10-yard Culter to Devin Aromashodu touchdown pass.
The Packers re-established control by taking advantage of Cutler's second interception of the game. Nick Collins stepped in front of an under-thrown pass, giving the Packers possession at the Bears 11. After a pass interference call in the end zone, Ryan Grant scored on a 1-yard touchdown run. The Packers extended their lead on a Rodger-to-Gregg Jennings 2-point conversion.
Grant rushed for 136-yards on 20 carries and two touchdowns, including a 62-yard score on the Packers first play of the game.
Rodgers completed 16-of-24 passes for 180-yards. Cutler was 23-of-36 for 204 yards. He threw for two touchdowns, and was intercepted twice.
The Packers have won five-in-a-row, and have solidified their hold on an NFC wildcard birth.