« back to Movies
Driving Miss Daisy - Broadway on Screen
Release Date: None
Genres: Program
Cast: Angela Lansbury, James Earl Jones, Boyd Gaines
Distributor: Screenvision
This timeless American play recently played sell-out performances on Broadway, London's West End and in Australia. Shot in Australia, Driving Miss Daisy tells the story of the decades-long relationship between an elderly Southern Jewish woman and her compassionate African-American chauffeur. Their iconic tale of pride, changing times and the transformative power of friendship has warmed the hearts of millions worldwide.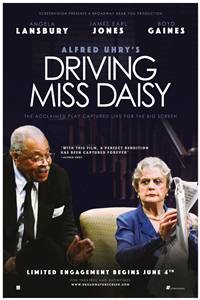 Show Times / Buy Tickets
There are no current showings for Driving Miss Daisy - Broadway on Screen in this area.