« back to Movies
Puss in Boots 3D
Release Date: Oct. 28, 2011
Genres: Animation
Cast: Antonio Banderas, Zach Galifianakis, Salma Hayek, Billy Bob Thornton, Amy Sedaris, Constance Marie, Guillermo del Toro, Rich Dietl, Ryan Crego, Tom Wheeler
Directors: Chris Miller
Official Site: http://www.pussinbootsthemovie.com/
Distributor: Paramount/Dreamworks
"Puss in Boots" -- based on one of the most beloved characters of the Shrek Universe -- tells the hilarious and courageous (daring, bold, brave) tale of Puss' early adventures as he teams with mastermind Humpty Dumpty and the street-savvy Kitty to steal the famed Goose that lays the Golden Eggs. In 3D at select locations.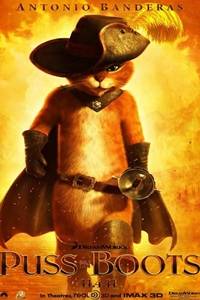 Show Times / Buy Tickets
There are no current showings for Puss in Boots 3D in this area.