The best hearing instrument providers pay attention to all the details during a hearing test.
For the protection of the consumer, both federal and state laws have been set regarding the procedures required during a hearing evaluation performed prior to purchasing a hearing aid.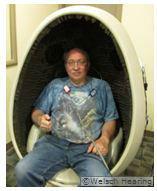 You may sit in a sound proof booth or in an egg while the hearing test is performed. The egg has soundproofing on the inside walls, making it very quiet and easy to concentrate during the test. A sound proof booth is not always necessary; the egg chair pictured works very well too.
Government Protection for Consumers Purchasing Hearing Aids
In some states there still is no licensing for Hearing Instrument Providers. The State of Wisconsin's Speech and Hearing Examining Board has become our nations model for all other states in regards to the laws governing hearing testing, and hearing aid sales and fitting. Unfortunately not all states have followed Wisconsin's example.
Like any other health care experience, a health history form is filled out, as well as the necessary HIPPA compliance forms. Once completed, the hearing evaluation begins.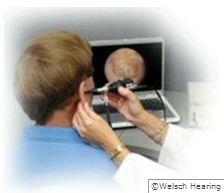 The Hearing Test and Examination
The first step is the ear examination. Most hearing health professionals today use a video-otoscope to examine the ear canals allowing the patient to see what the specialist is seeing on the TV or monitor.
With this examination you can see if there is cerumen (wax) impaction, infections, deformities, perforations in the tympanic membrane (ear drum), or any other conditions that might indicate that a medical referral is in order. If all is clear the hearing test may be performed.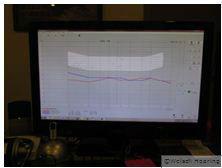 The hearing test consists of listening to pure tones through the use of head phones or insert earphones (air conduction) and through the use of a vibrating device (bone conduction). In addition, speech tests are done to determine the patients MCL (Most Comfortable Level) and UCL (Uncomfortable Level). A speech discrimination test helps determine how well one will understand speech when wearing hearing instruments. Poor speech scores could indicate a medical condition as well. The Speech Reception Threshold is determinedthis is the minimum hearing level at which one can understand half of the time.
A good hearing health care professional will go over the hearing test results with you, discussing the type of hearing loss and any reasons for any medical concern or need for possible medical intervention. In addition, a discussion of the patients lifestyle, communication difficulties and needs will help determine which hearing instrument will be the best for the patients situation.
Once all of this is complete, you will be given the opportunity to listen through a hearing aid, programmed specifically for your hearing loss right, in the providers office. That is why it is recommended that you bring a family member or friend with you so you can listen to a familiar voice through hearing aids that are fine tuned for you.
In most cases you need not see a physician prior to purchasing a hearing instrument, however it is required that the patient sign a Federal Waiver of Medical Examination form.
State Licensed Hearing Instrument Specialists often perform complete hearing tests free of charge. Audiologists charge for their complete tests and bill your health insurance. Unless your deductibles are met, you may have to pay the balance.
It is important to pick a hearing health care professional that you feel comfortable with and one that will give you the service and attention that you need. Your hearing is important. Contact Welsch Hearing Aid Company to schedule a FREE hearing test .
Susan L Fenrich, BC-HIS*, Owner of Welsch Hearing Aid Company, Inc. *Board Certified in Hearing Instrument Sciences.
The content contributions of Welsch Hearing Aid Company should not be considered by anyone as a substitute for medical or other hearing health professional diagnosis, treatment, advice, or recommendations.